In 2020, grants totaling $5,165,250 were made to local organizations.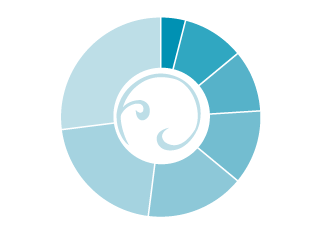 3

%

—Environment Preservation & Education

10

%

—Arts & History

10

%

—Youth

12

%

—Housing & Support Services

16

%

—Community Support Services

21

%

—Health & Wellness

27

%

—Employment Education & Training
Hardenbergh Foundation History
David Bronson created his wealth in the St. Croix white pine logging boom in the mid- to late 1800s. With partners, he created the East Side Lumber Company then acquired a fleet of steam-powered paddle wheelers which pushed log rafts down the Mississippi to market. In 1950, Bronson's granddaughter Ianthe Hardenbergh (nee Bronson) and her daughter Gabrielle Hardenbergh created the St. Croix Foundation—now the Hardenbergh Foundation.
Directors: John G. Couchman, Jeffrey T. Peterson, Jon A. Theobald